Lawyer EXPOSES TRUTH Behind Britney Spears DIVORCE BATTLE! Will Sam Asghari WIN!?
In a whirlwind romance that captured headlines, pop icon Britney Spears and Sam Asghari's marriage has come crashing down. Just a year after their lavish wedding, reports reveal their impending divorce, which has unleashed a storm of rumors and scandals. From an extravagant celebrity-studded ceremony to cheating allegations and blackmail threats, their relationship has proven to be as tumultuous as the legal battle that consumed Spears's life – her conservatorship.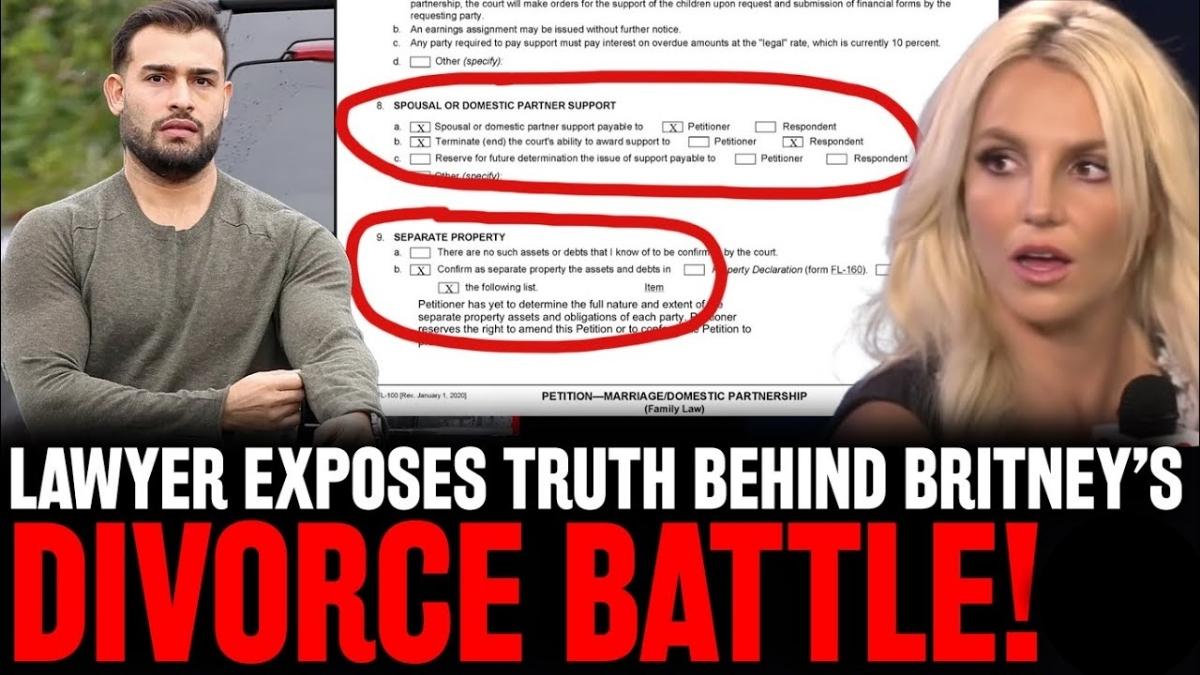 A Meeting of Hearts in 2016
Their journey began in 2016 when Spears, aged 34, and Asghari, 22, met on the set of Spears's music video "Slumber Party." Asghari played the love interest, and their chemistry was undeniable. A few months later, Spears took a bold step by reaching out to Asghari after discovering his number in her bag. Their romance swiftly unfolded, leading to public declarations on Instagram.
Love Amidst Conservatorship Constraints
Throughout their relationship, Spears's personal life remained under the shadow of her conservatorship. Her father wielded significant control over her decisions, including her desire to remarry and expand her family. Despite the challenges, Asghari remained a source of strength for Spears during her tumultuous journey, and he even proposed in September 2021, while the conservatorship persisted.
The Rise of #FreeBritney
Amidst the love story, the #FreeBritney movement gained momentum. The release of the documentary "Framing Britney Spears" in 2021 ignited a public outcry for her freedom. Spears herself testified in court, expressing her desire to end the conservatorship. Asghari emerged as a staunch supporter, publicly donning #FreeBritney T-shirts, aligning his actions with the growing movement.
From Wedding Bells to Legal Drama
After the courts ordered the dissolution of the conservatorship in November 2021, Spears and Asghari's wedding took place. The event saw celebrities in attendance, but it also included an uninvited guest – a reminder of Spears's previous tumultuous marriage in 2004. However, their marriage was not without its challenges. Spears's behavior became increasingly erratic post-conservatorship, and rumors of discord within the relationship surfaced.
Divorce Amidst Scandals
The marriage eventually unraveled, with TMZ reporting that Asghari suspected Spears of infidelity, leading to a major confrontation. Simultaneously, Page Six reported that Asghari sought to renegotiate their prenup, potentially threatening to reveal damaging information about Spears unless he received more alimony. This twist has brought their relationship into the spotlight once again, underscoring the complexity of their romance amidst Spears's ongoing struggles.
The Sad Tale Continues
As Britney Spears's life remains a focal point for the public's curiosity, her tumultuous relationship with Sam Asghari stands as a microcosm of the broader issues she has faced. Amidst the glare of fame and the constraints of conservatorship, her love story has become intertwined with questions about her agency, privacy, and well-being.
An Unending Saga
In an ongoing narrative that unfolds like a never-ending saga, Britney Spears's life continues to capture headlines. As the public grapples with the balance between interest and respect for her privacy, her journey remains a poignant reminder of the struggles faced by celebrities under the relentless gaze of the media and the expectations of fans.
This comprehensive news-style article encapsulates the key events and complexities of Britney Spears and Sam Asghari's relationship within the context of her conservatorship, ensuring it is optimized for search engines and designed to capture readers' attention.